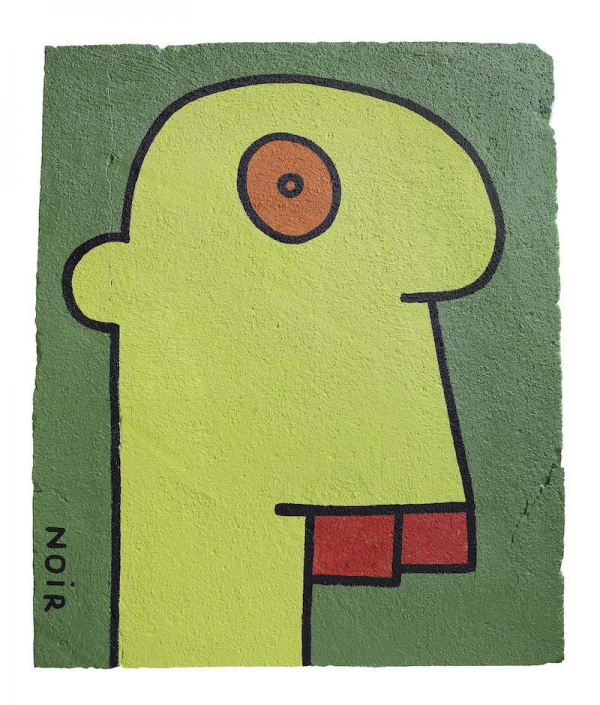 Mon Dentiste Habite de l'Autre Côté du Mur, Je Dois Improviser!, avril 2014
acrylique sur béton
100 x 120 cm
© Olivier Borst
Interview Video

Born in Lyon in 1958
U
nable to find his path in Lyon, Thierry departed for Berlin in January 1982 with two small bags and a vision of the possibilities open to him in the cultural crucible of this Western enclave, drawn to the music of David Bowie and Iggy Pop, who had also lived in Berlin just a few years before.
He immediately found a home for himself in a former hospital that had been transformed into a youth centre, with a sweeping view of the Wall… what atmosphere!
Two years later, in April 1984, both blithely unaware of the danger, he and Christophe Bouchet, whom he'd met while staying there, decided to test their mettle against the cement monster by covering it with their figures – an unprecedented decision made with no regard for politics or embellishment.
The hurried nature of the actions required simple motifs, preferably in bright colours, although the latter choice was subject to the pots of paint they'd managed to nab from construction sites.
As the years went by, these murals took on considerable proportions and rapidly gained recognition on the artistic scene. The release of Wim Wenders' The Wings of Desire in May 1987, in which Thierry's works appeared, gave him international visibility.
His paintings, with their bright colours and melancholy poetry, are among the most representative of Berlin Wall art. They remained there longer than many other works and survived the fall of the Wall in 1989.
Thierry Noir's paintings thus occupy a singular and specific place in art history, that of the unusual osmosis between art history, freedom, and history and general – they have become the symbol of the freedom regained after German reunification and the end of the Cold War.
Today, Noir is an emblematic figure of the street art movement, of which he was at the vanguard. The Howard Griffin Gallery paid tribute to him with a retrospective in April 2014.
Our memory smuggler
made from a prison wall
a window – open to the horizon.
We see him still, with wounded mouth,
in the freedom-enamoured streets.